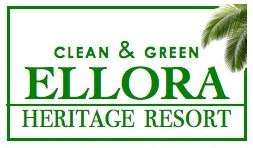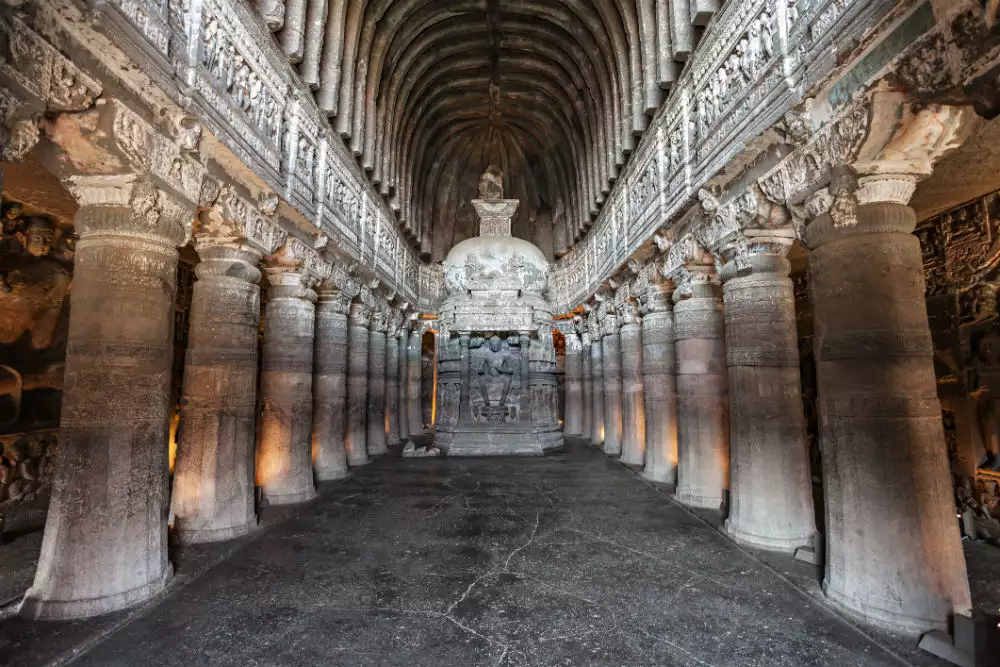 Ajanta Caves, Ajanta
UNESCO World Heritage Site
A popular one-day excursion from Ellora. These ancient monasteries and worship spaces in Buddhist traditions were carved into 250 feet of solid rock wall over a period of seven centuries, starting from the 2nd century BCE. Whereas the Ellora cave complex is notable for its elaborate relief carvings, the Ajanta caves and rock cut sculptures are masterpieces of Buddhist religious art, among the finest surviving examples of influential, ancient, particularly expressive Indian painting styles that present emotion through gesture, pose and form. About a three-hour drive. We can arrange for a car, box lunch or breakfast, and a guide. 9 AM to 5:30 PM, closed on Mondays.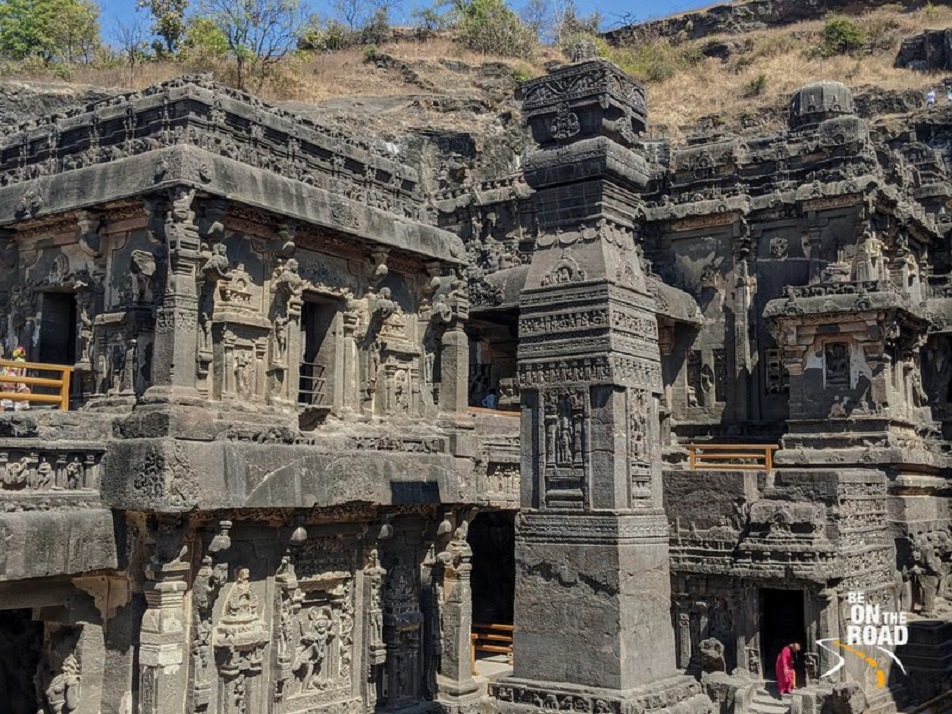 Ellora Caves, Ellora
UNESCO World Heritage Site
One km walk from our front gate is the entrance to one of the largest rock-cut monastery-temple cave complexes in the world, with monuments and artwork of Buddhism, Hinduism and Jainism from the 600-1000 CE period. The site features over 100 caves, of which 34 caves are open. Cave 16 features the largest single monolithic rock excavation in the world, the Kailasha temple, a chariot-shaped monument dedicated to Shiva. This cave also presents the gods, goddesses and mythologies found in Vaishnavism and Shaktism, and relief panels summarizing the two major Hindu epics. We recommend you allow at least one full day here. We can help you hire an expert guide so that you get the maximum benefit from the experience. Open 6 AM to 6 PM. Closed on Tuesdays.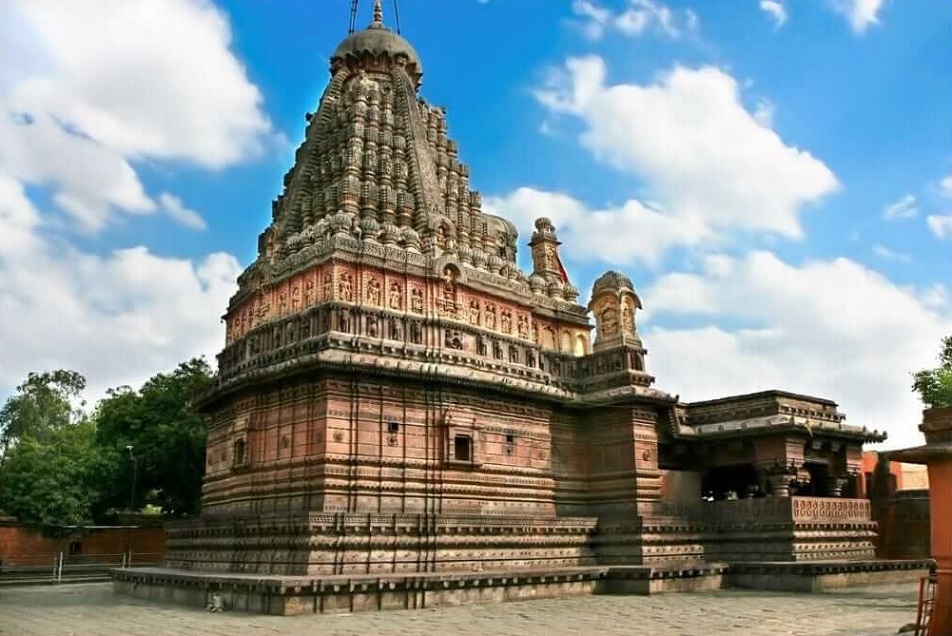 Grishneshwar Temple, Ellora
An extremely popular site of pilgrimage, the twelfth and last of the jyotirlinga (Shiva) temples mentioned in the Shiva Purana and thus considered the holiest for Hindu pilgrims. The temple houses carvings and sculptures of many Hindu gods and goddesses. Anyone may visit the temple and its inner chambers, but to enter the sanctum sanctorum (garbha- ghrya), men must go bare-chested. Right across the street from us.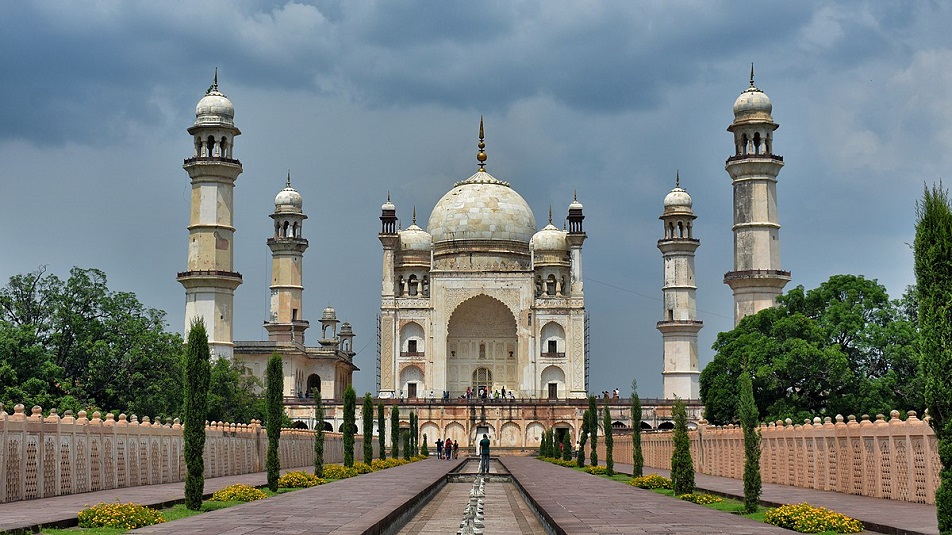 Bibi Ka Maqbara, Aurangabad
Known as the "Mini Taj," but a charming architectural gem in its own right, this tomb was built by Aurangzeb's son Azam Shah in memory of his mother, Rabia aud Daurani or Dilras Banu Begum, in 1678. The mausoleum was designed and erected by Ata-ullah, architect, and Hanspat Rai, engineer. Ata-ullah was the son of Ustad Ahmad Lahauri, the principal designer of the Taj Mahal. 30 km away from Ellora; allow up to one hour travel time. Open from 8 to 8 daily.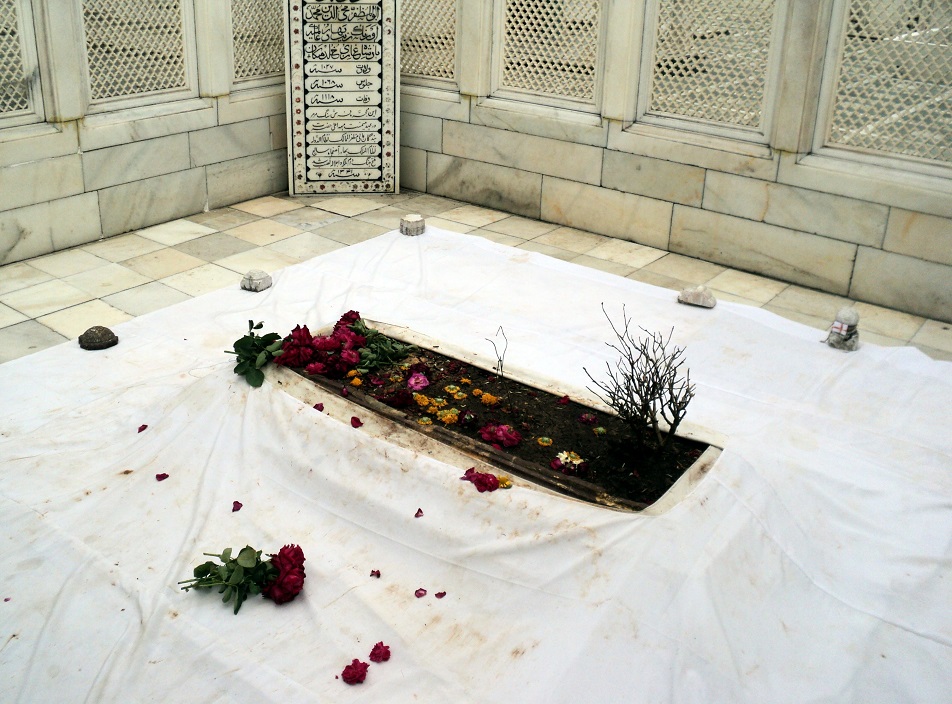 Tomb of Aurangzeb, Khultabad
The remains of Aurangzeb (1618-1707), sixth and last of the great Mughal emperors, are interred in Khultabad, in the dargah of Sheikh Zainuddin. This simple tomb is open to the sky and quite different from the memorials to other rulers of equal fame. (Aurangzeb's mother was Mumtaz Mahal, who is enshrined in the Taj Mahal.) This popular site is only a few kilometers away; we can arrange transportation.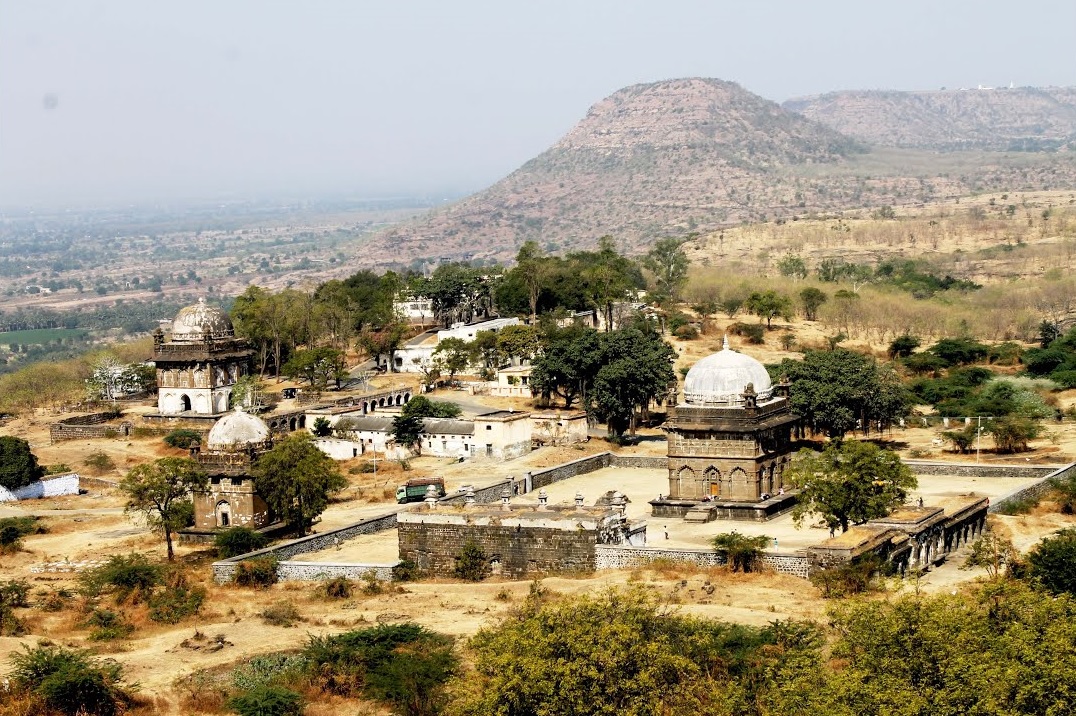 Khultabad Village
Once known as Rauzaa, meaning "garden of paradise," Khultabad is now called the Valley of Saints, or the Abode of Eternity, because in the 14th century many Sufi saints chose to reside here. The Dargahs of Zar Zari Zar Baksh, Shaikh Burhan ud-din Gharib Chisti and Shaikh Zain-ud-din Shirazi, along with the tomb of the Mughal emperor Aurangzeb and his trusted General Asif Jah I, the first Nizam of Hyderabad, are all here. You may wish to hike up the hill for meditation in the sacred cave where sadgurus Sai Baba of Shirdi and Avatar Meher Baba spent time, or explore the tomb of the fascinating Malik Ambar, 1548-1626, whose childhood as an African slave did not prevent him from becoming advisor to generals, prime minister of the Delhi Sultanate, and father of modern guerrilla warfare. Charming medieval village. Short ride away by car or rickshaw, or borrow our bicycle.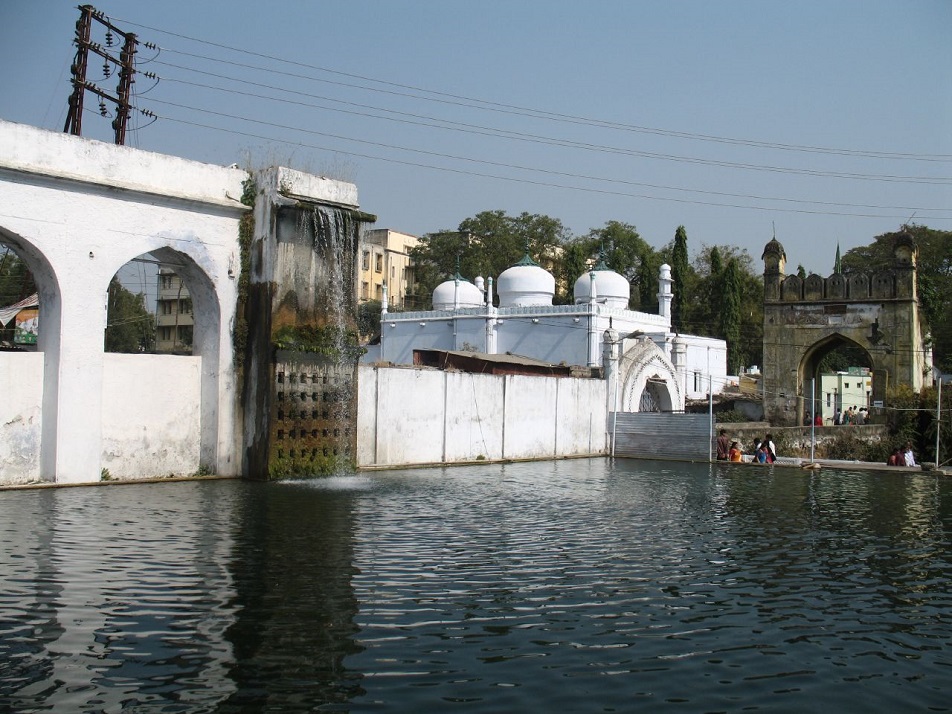 Panchakki, Aurangabad
Panchakki, the water mill, displays the scientific process of medieval Indian architecture. It was designed to generate energy via water brought down from a spring on a mountain. The building, attached to the dargah of Baba Shah Musafir, a Sufi saint, is located in a garden near the Mahmud Darvaza with a mosque, a madrassa, a kacheri, a minister's house, a sarai and houses for zananas.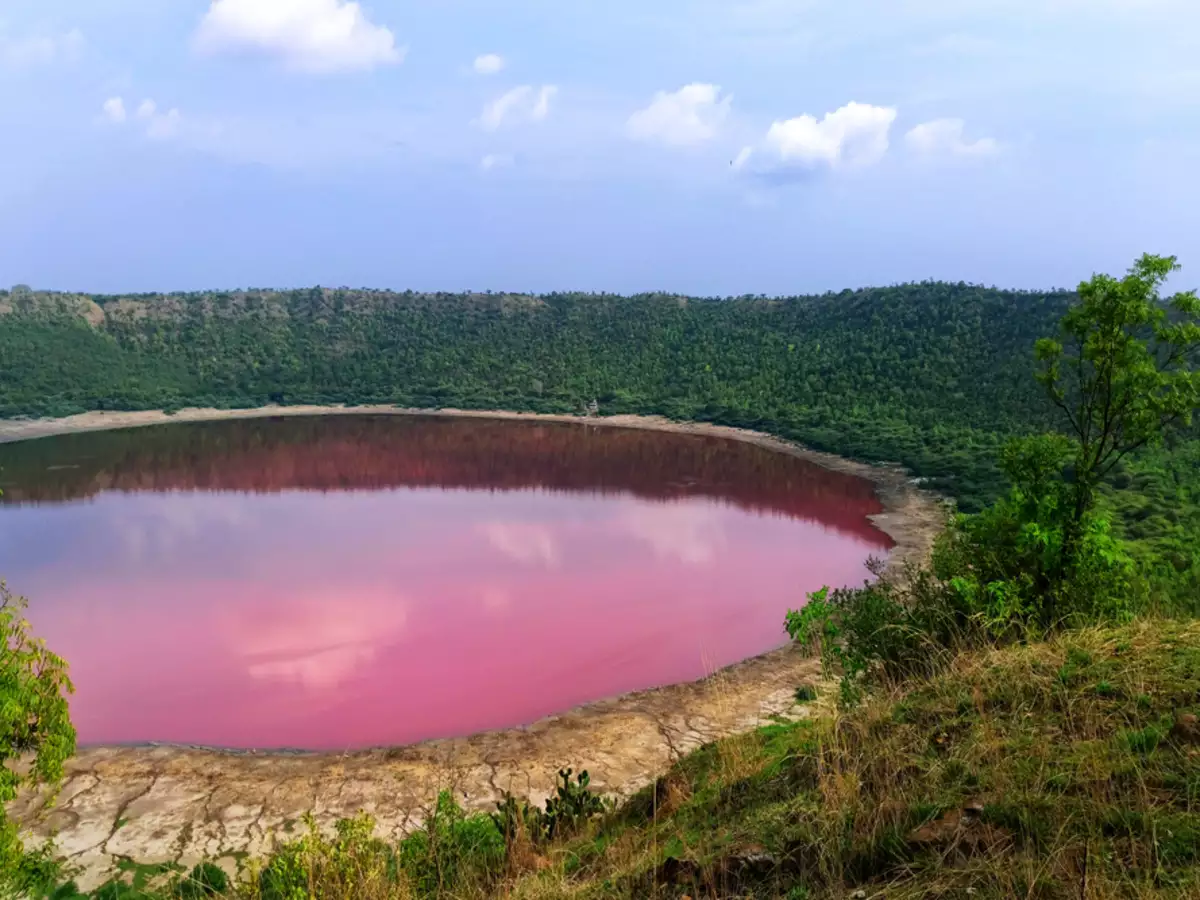 Lonar Lake
This is a National Geo-heritage Monument, located at Lonar in Buldhana district. The crater was created by an asteroid collision with Earth during the Pleistocene Epoch. It is one of only four known hyper-velocity impact craters in basaltic rock. Lonar Lake has a mean diameter of 1.2 kilometres (3,900 ft) and is about 137 metres (449 ft) below the crater rim. It is understood to be the result of an impact that occurred between 35,000 and 50,000 years ago. The water in the lake is both saline and alkaline, in two bodies that do not mix, making for a unique ecosystem that is a home for monitor lizards. The outer region of the lake is neutral with a pH level of 7. The lake's inner region is alkaline with a pH level of 11. Both regions house diverse flora and fauna. There is a sweet water well at the south end. (Four to five hours drive.)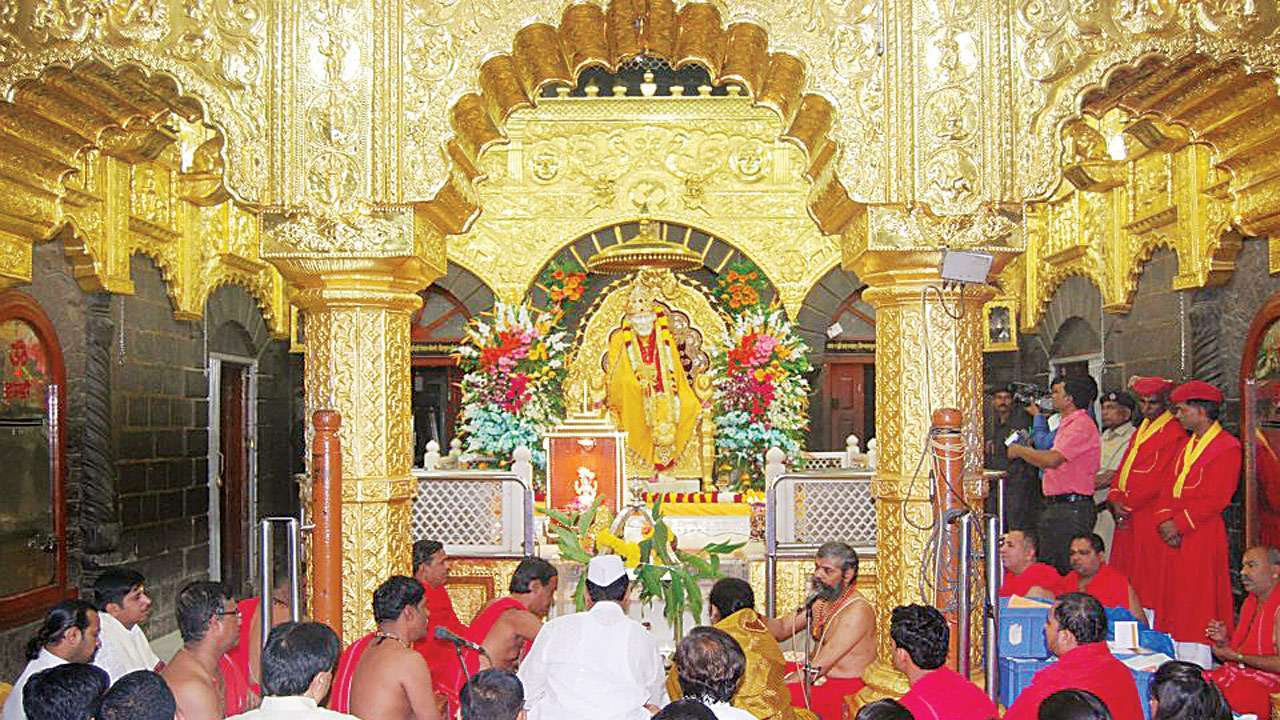 Shirdi
Sai Baba (d. 1918) was an Indian spiritual master who is regarded by both Hindus and Muslims as saint and fakir. He preached the importance of realization of the self and criticized love towards perishable things. His teachings concentrate on a moral code of love, forgiveness, helping others, charity, contentment, inner peace and devotion to the God and guru. Because of Sai Baba, Shirdi has become a place of importance and is counted among the major Hindu places of pilgrimage. Three hours drive from resort.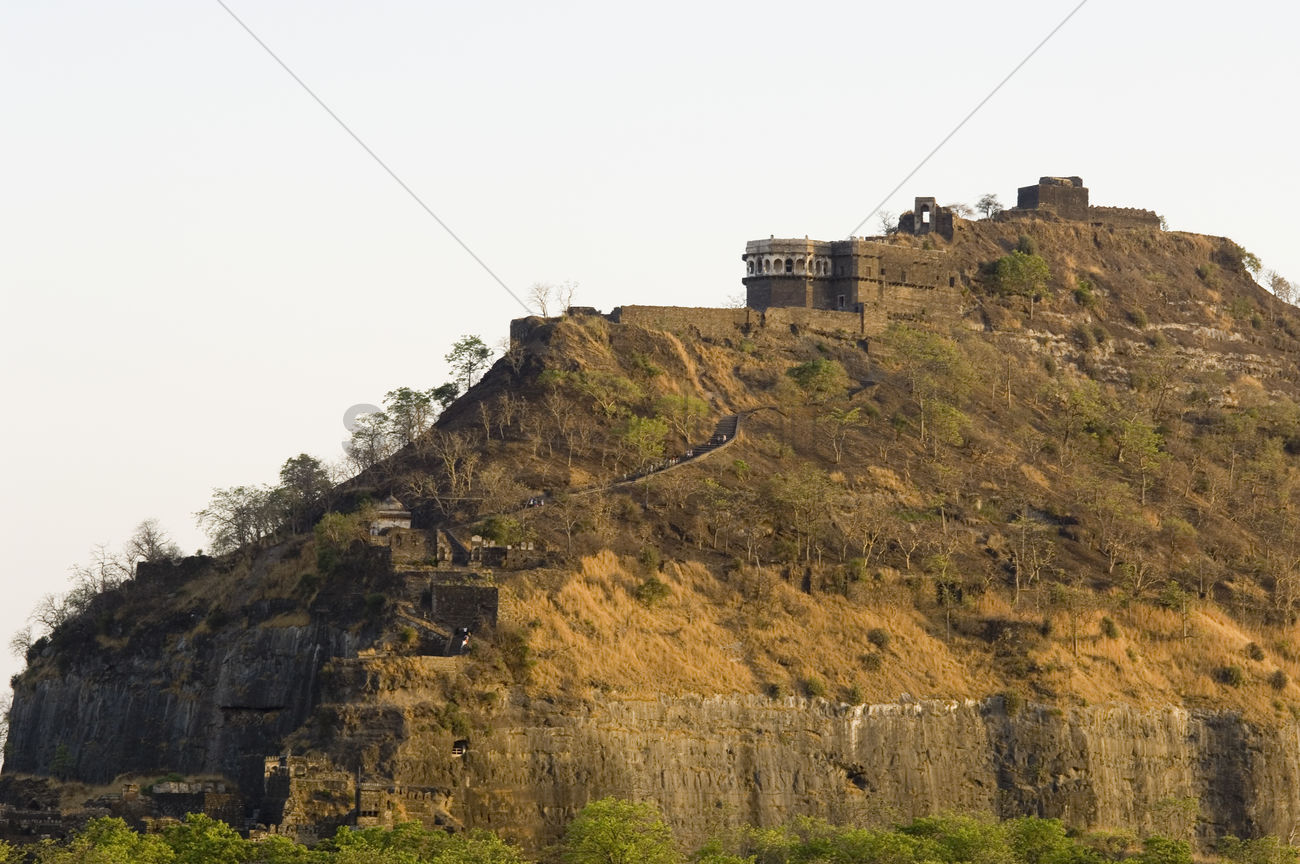 Daulatabad Fort
There is a steep climb to reach the fort's summit. However you can visit areas situated on relatively horizontal terrain. Allow 3 hours for a quick walk-through, a short drive from the resort. The fort was originally known as Devagiri, literally "hills of God," as Lord Shiva is believed to have stayed on the hills surrounding this region. Around the sixth century CE, Devagiri emerged as an important uplands town, along caravan routes going towards western and southern India. The triangular fortress was built around 1187 by the first Yadava king, Bhillama V. In 1308, the city was annexed by Sultan Alauddin Khalji of the Delhi Sultanate. In 1327 Sultan Muhammad bin Tughluq renamed the city Daulatabad, and shifted his imperial capital here from Delhi, ordering a mass migration; he reversed his decision in 1334. Shah Hasan Gangu Bahmani (r. 1347–1358) built the Chand Minar as a replica of the Qutub Minar of Delhi. In 1499, Daulatabad became a part of the Ahmadnagar Sultanate, and their secondary capital.
In 1610, near Daulatabad Fort, the new city of Aurangabad, then named Khadki, was established by brilliant engineer and prime minister Malik Ambar to serve as the capital. Most fortification was constructed under Ambar, making it one the most powerful forts of the medieval Deccan. The defense system that made it virtually impregnable comprises fortifications with double and triple rows of massive walls.There is a complex interior rock-cut subterranean passage. In addition, there are ingeniously built mazes with a complex arrangement of entryways and deep rock-cut moats and trenches which can be crossed only over a drawbridge. In 1633 Daulatabad was finally captured after a siege of four months. It was during this time Aurangzeb as viceroy of Deccan led his campaign against Bijapur and Golconda from Daulatabad. Daulatabad was under the control of the Marathas before the Nizams of Hyderabad took control of it in 1724. A collection of cannons is of special interest.